Grand Haven Lighthouses-Lake Michigan
Enjoying a walk out to the Lights
I love to be able to see a lighthouse up close. The lights at Grand Haven provide this opportunity!
I was delighted to find two lights connected to the beach by a long stone pier and a raised catwalk to connect the two lights. My friends and I took the opportunity to walk out on the catwalk and see the lighthouses up close It was a chlly fall day on Lake Michigan, but the slight discomfort was well worth the pleasure of photographing the lighthouses from a variety of angles.
On this page I will show you the photographs that I was able to take and give you a little insight into the lighthouses at Grand Haven. Enjoy
Photographs by myself, mbgphoto
View from Beach
This photo was taken when we first arrived at the lighthouse. It was taken from the beach area as we approached the lighthouse. There are several small sand dunes near the pier where this photo was taken. I walked around the area to find the best view of the lights with the sand dunes and grasses in the foreground.
Long View of Pier and both Lights - Grand Haven South Pierhead and Inner Lighthouse
The Grand Haven Lights consist of two lights and an elevated catwalk that connects the two. The south pierhead light is a red conical steel plate tower that was constructed in 1905. The inner lighthouse is barn shaped and was originally built in 1875. It was moved to the end of the breakwater in 1905.
The two lights stand several hundred feet apart on the long pier.
Memorial Marker - To those whose lives were lost
This marker is seen just as you enter the Pier. It honors those who lost their lives off this pier.
Sign as you enter Pier
Warnings are posted at the entrance to the Pier. The weather can get quite rough on Lake Michigan, particularly in the winter so it is important to heed the warnings.
Closer Views of Grand Haven Lights - Bright Red Lights
Like many of the lighthouses on Lake Michigan, the Grand Haven lights are maintained by the Coast Guard.
Pier makes great place for a stroll - Visitors can walk out on Pier
My friends and I enjoyed a wonderful walk out on the pier. It was great to see the lighthouses up close.
Scenic shot of the Lighthouses - Through the Sand Dunes
Grand Haven Lights on a clear Fall Day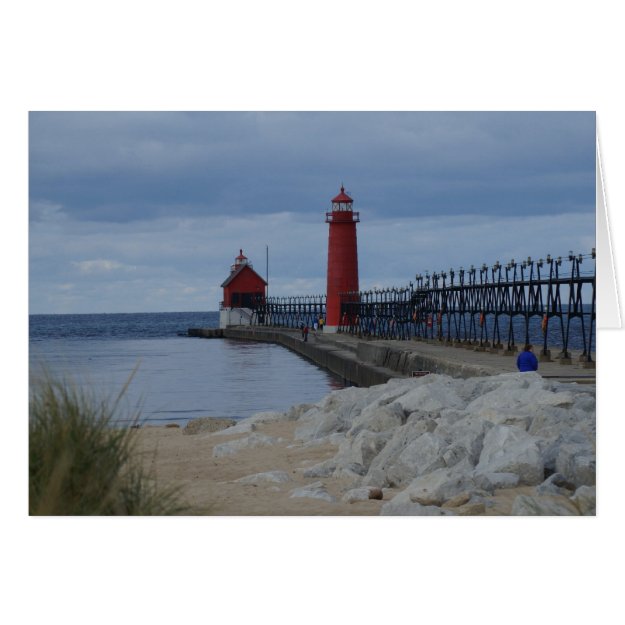 Grand Haven Lighthouses Greeting Card
by
lighthouseenthusiast
Create a card
designs on Zazzle
Here is a great little replica of the lights at Grand Haven.