The Statue of Liberty is a much recognized symbol of American freedom. But did you know that for a few years in it's early existence it also served as a lighthouse and was overseen by the lighthouse board.
The Statue of Liberty was given to the United States of America by the people of France. It is modeled after the Roman goddess of freedom, Libertas. The statue was dedicated on October 28, 1886 with much fanfare and a huge fireworks display.
The plans for the lighting of the statue were not complete at that time and through much trial and error the lighthouse was finally lit and used as a navigational aid to ships. It was placed under the direction of the lighthouse board and officially served as a lighthouse from November of 1886 to March of 1902.
I have seen the statue several times but for me the most exciting time was this past November when our cruise ship was entering New York harbor at the end of the cruise. It was 6 am and I was just opening my eyes when I looked out our balcony door and saw the beautiful sight you see pictured above. I jumped out of bed, grabbed my camera and was able to take several shots of the statue before it move out of my line of sight. It was a very moving experience for me.
After we passed the statue, I was able to take a few photos of the New York skyline lit up in the early morning sky.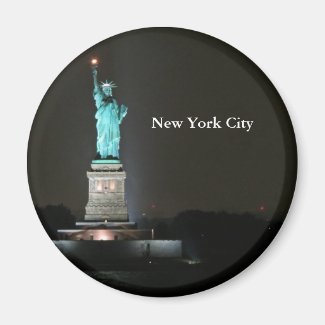 Statue of Liberty
by
mbgphoto
Create a one-of-a-kind
custom magnet
at Zazzle.