Oldest Lighthouse on the Great Lakes
Fort Gratiot Lighthouse is the oldest lighthouse in Michigan. It was first put into service in 1829 and still operates today to guide ships in the area through the rapids at the head of the St. Clair River.
There was originally a lighthouse built in the area in 1825 but it soon collapsed due to poor construction.
The current lighthouse stands 86 feet tall. It has a green flashing light that was installed in 1933 that can be seen from as far away as 17 miles.
Photographing Lighthouses
When I visit a lighthouse I like to photograph it from all different vantage points. Before my visit I look for photos that other photographers have taken of the lighthouse. One book that is particularly helpful for Great Lakes Lighthouses is by Richard F. Edington. He gives directions to the lighthouses and then several ideas of how best to photograph each lighthouse. For the Fort Gratiot lighthouse I was able to follow his advice and photographed from several different perspectives. The first in the photo above is a shot I took while on the grounds of the lighthouse.
The next shot in the photo below was taken from across the river on the Canadian side of the river.
It is one of my favorite photos of the lighthouse. I took it in the morning when I was able to get the reflection of the lighthouse on the river.
The next photo shows the lighthouse from the west side/street side. I took this photo through the fence.
Next, I walked out on the beach just north of the light to take these two photos.
Here are some of my photographs on a Zazzle poster.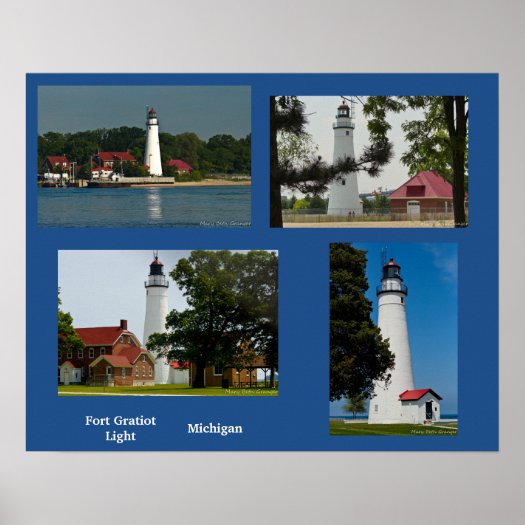 Fort Gratiot Light Station
by
lighthouseenthusiast
View more Fort gratiot lighthouse Posters at
zazzle.com
Lighthouse Coloring books are a great way to introduce children to lighthouses. Here is one I found on the Great Lakes. My granddaughters love to color these lighthouses.