"Big Red" Holland Lighthouse
Holland Michigan
Big Red lighthouse is a very unique lighthouse. It is set apart from other lighthouses by it's bright "fire engine" red color and it's distinctive Dutch archictecture. I was delighted to see this unusual lighthouse on my visit to Holland, Michigan.
On this page I will showcase some of the photographs I took of "Big Red" and provide information to some of the attractions available in Holland, Michigan.
photos by Mary Beth Granger
Big Red in the Fall - Holland, Michigans' Lighthouse
I was able to photograph Big Red in October when the leaves were beginning to turn colors. This photo was taken from the sand dunes in Holland Park across from the lighthouse.
Holland Lighthouse
Holland has much to Offer
Wonderful Dutch Theme
Our visit to the lighthouse was the culmination of a great visit to a very interesting town. Holland, Michigan has a lot to offer the visitor. Although we visited in the fall, I am told it has a great tulip festival each May with over 6 million tulips in bloom.
The town also boasts a 240 foot windmill that was brought from the Netherlands. It can be seen on Windmill Isand. There is a Dutch Village Theme Park that has lots of great shops with products from the Netherlands. We were able to watch wooden shoes being made and even to try on some of the finished product. It was great fun to try to walk in wooden shoes!
There was some wonderful pottery from the only Delft factory outside of Holland. I had visited the factory in Delft, Holland so I was curious to see what the American factory was like. Although much smaller, it did have many of the same pieces.
Another view of the Lighthouse. - wonderful dutch architecture
The first lighthouse in Holland was constructed in 1872. The current lighthouse, shown in this photo, was errected in 1934. It is covered with metal plates to protect it from the weather and waves.
Closeup Photo of Big Red
This photo was taken from the edge of the pier in the park across from the lighthouse.
Big Red from the Pier
Here are some Zazzle gifts made from my photographs.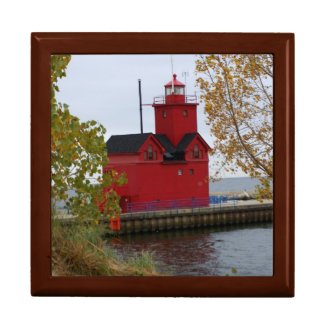 Big Red Lighthouse Keepsake Boxes
by
lighthouseenthusiast
Shop for another
keepsake box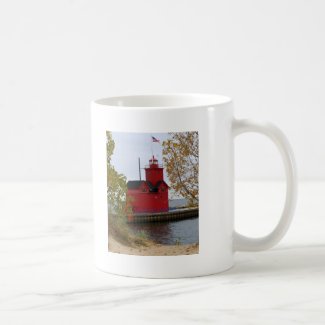 Big Red Lighthouse Classic White Coffee Mug
by
lighthouseenthusiast
View other
coffee cups
online at zazzle.com