Tawas Point Lighthouse is located along the Michigan coast of Lake Huron.The lighthouse has been in operation since 1876. Today the lighthouse is part of Tawas Point State Park. If you have ever dreamed of being a lighthouse keeper Tawas Point Lighthouse offers you an opportunity to stay in the keepers house and conduct tours of the lighthouse along with some other keepers duties.
We visited Tawas Point on a beautiful June afternoon, the skies were bright blue and had some interesting cloud formations. The lighthouse grounds was not crowded so I was able to shoot several photos without people in the photos. The trees and grounds around the lighthouse made this an excellent lighthouse to photograph.
When I photograph a lighthouse I like to shoot from several different perspectives. I look for interesting objects or foliage in the foreground and leading lines such as paths or fences to draw your eye to the main subject. I found Tawas Point to be a great lighthouse to photograph. Below are the results of my efforts.
Leading Lines
These first two photos were taken using two of the many trail paths to lead your eye to the lighthouse.
Foreground Interest
The next group of photos uses some of the trees and flowers on the property to give foreground interest and perspective. These three pictures were taken over about an hours time. You will note how the cloud formations changed the look of the photos over the time I was shooting. On days when there are moving clouds it really pays to hang around and get the changing formations in your photographs.
Here is a greeting card made from my lighthouse photos.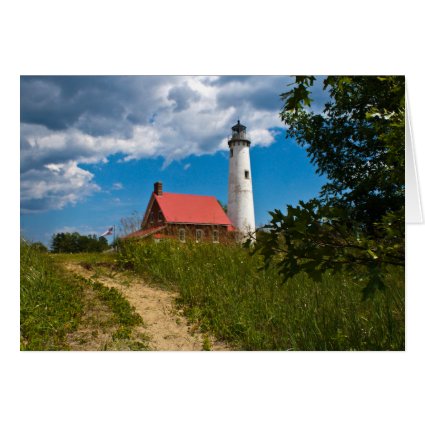 Twas Point Lighthouse Greeting Card
by
lighthouseenthusiast
Find other Twas point lighthouse Cards at
zazzle.com
I found the ideas in this book to be very helpful in photographing Great Lakes lighthouses. It includes directions to each lighthouse along with great photos and ideas of vantage points to take each photo.