Photographing Hereford Inlet Lighthouse
Hereford Inlet Lighthouse is located along the New Jersey shore in North Wildwood. This gorgeous Victorian style lighthouse is a photographers dream. It not only has a beautiful Victorian home with a lighthouse incorporated into the house, but the surrounding property is full of beautiful gardens, special little hideaways, and a path leading right to the sea.
I found this lighthouse particularly interesting because it looked more like a beautiful Victorian home than a lighthouse. Inside the home it has 5 fireplaces and a very well maintained living quarters for the keeper and his family. This must certainly rate among the nicest keepers quarters for lighthouses.
All photographs in this article are my own-mbgphoto.
Victorian Lighthouse
View from Parking Area
Sign Welcoming You to Lighthouse
Historic Lighthouse
The lighthouse was first operated in 1874 to guide ships along the New Jersey shoreline. This distinctive lighthouse helped navigators to pinpoint where they were located along the shore.
This lighthouse is very sturdily constructed. In 1889 when a ferocious hurricane blasted the area many people were washed away and drowned. Those people that survived took refuge in the Hereford lighthouse. Even though it was surrounded by water and shaken by the high winds the lighthouse and18 people who took refuge in it survived. ( information on this event taken from Mid-Atlantic Lighthouses by Bruce Roberts and Ray Jones).
The lighthouse remained in service for 90 years at which time it was discontinued by the Coast Guard in 1964. It sat unused until 1986 when the citizens of North Wildwood opened it again.
Today you can tour the lighthouse, climb to the top of the tower and enjoy a restful day among its beautiful gardens,
Visiting Lighthouses
Have you ever visited a Lighthouse?
42% Oh yes I have visited many lighthouses, they are great!
42% I have visited a few lighthouses and would love to see more.
17% No, but they are on my list now.
0% Why would I want to see a lighthouse...just another building!
12 people have voted in this poll.
My Passion for Visiting Lighthouses
I have always loved lighthouses, but 8 years ago when I retired my love of lighthouses really heated up. It started with a love to travel and improve my photography skills. The first year of my retirement my husband and I visited Door County, Wisconsin and I took some photos of their lighthouses. I found each one to be different and intriguing and my quest to photograph more lighthouses started.
Over the years we have photographed over 100 lighthouses and each year I am looking for new opportunities to capture these beautiful, historic lights with my camera. Our trip to the New Jersey shore gave me the opportunity to add 6 new lighthouses to my photographic collections.
White Hydrangea and Gazebo Sitting Area
The Gardens at Hereford Inlet Lighthouse
The gardens all around the lighthouse were beautiful. The flowers were well maintained and there was a huge variety of flowers artfully set among small sitting areas. You would walk along a path and be surprised by each little area. One area had a birdbath surrounded by flowers, another would have beautiful hydrangea bushes, and still others would have bright yellow daisy type flowers bordering the house and fence.
There were so many wonderful little areas to explore. It was truly an unexpected and delightful garden.
Hanging Baskets around the Porch
Flowers Surrounding Birdbath
Bright Yellow Flowers and Picket Fence
Paths throughout the Garden
One of the things that I loved about the garden was the pathways that led you from one section to the next. These pathways were lined with beautiful greenery and flowers and were found throughout the back area of the grounds.
There was a wooden pathway that went from the house to the very back of the property which then opened up to a concrete boardwalk that went along the sea. What a great way to spend an afternoon. I walked from the gardens out onto the boardwalk and could watch the sailboats drifting out to sea. A truly delightful walk.
Pathways Lined with Flowers
Old Boats Surrounded by Flowers
Towards the back area of the gardens, I came across two different old boats. Theses boats looked like they had seen better days and were now used to showcase the flowers around the garden. Each of the boats had a wooden bench sitting across from it and beautiful flowers growing all around the boat.
I took some time to sit on the bench and rest before I started photographing the boat and flowers. What a great way to add interest to the gardens!
Where is Hereford Inlet?
North Wildwood New Jersey
-
North Wildwood, NJ 08260, USA
[get directions]
When we visited Hereford Inlet we were staying at Atlantic City. The lighthouse was about a half hours drive from our hotel.
Lighthouse Gifts from my Photos
I love to use my photographs to make gifts for my Zazzle shops. Below you will find several gifts from photographs of the Hereford Lighthouse.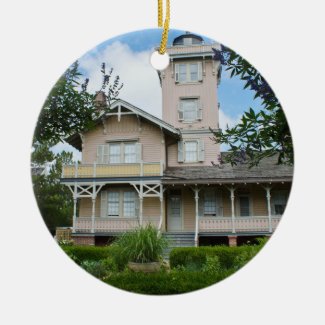 Hereford Inlet Lighthouse Double-Sided Ceramic Round Christmas Ornament
by
lighthouseenthusiast
Browse
Hereford inlet lighthouse Ornaments