High atop the hills in Highland New Jersey is a very unusual lighthouse. This structure has two towers that are 320 feet apart.
We were visiting Sandy Hook lighthouse when I looked up the hill and saw this marvelous castle like structure. I pulled out my 300mm lens and was able to capture this photo from the bottom of the hill.
History of Lighthouse
Afterwards I researched a bit to find out out this unusual structure. It seems that the Highlands were an important watch tower for settlers back in the mid 1700's. They were able to watch the harbor from this local and protect the ports from raids by enemy ships. Whenever a hostile ship was sighted a warning beacon was sent. This went on until the time of the American Independence when shipping got busier in and out of the Hudson River. At that time this matched pair of stone towers was built in 1828.
These brownstone towers helped to guide ships into the harbor until 1898 when the government no longer saw a need for two towers and the north tower went black. The south tower continued to operate until 1953.
Today this historic site is ran by the New Jersey State Park Service and welcomes visitors.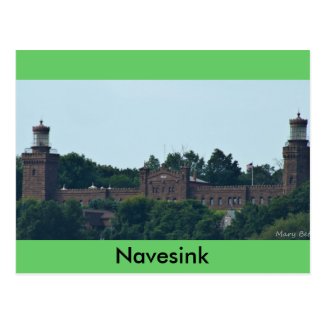 Navesink Postcard
by
lighthouseenthusiast
Design
Full color post cards
at zazzle